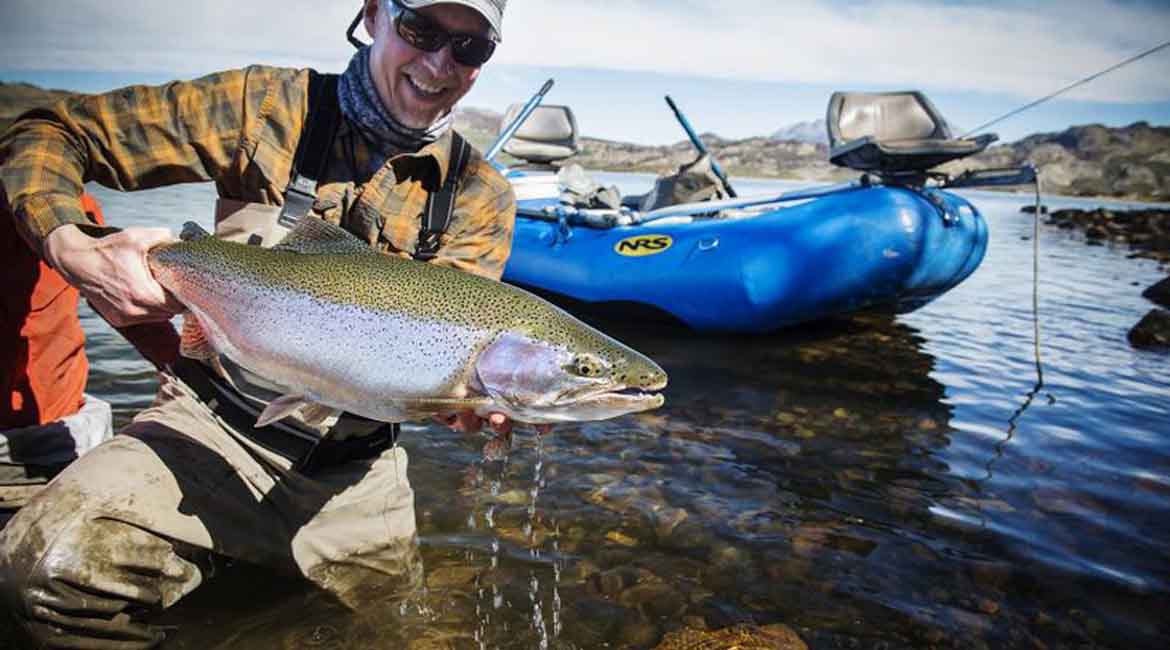 FISHING
Attractively nestled on the banks of the legendary Rio Futaleufú, El Encuentro has for 30 years served as the headquarters of Patagonia's first family of trout fishing. The current generation of the Beale family (originally English immigrants) are the family's most knowledgeable and skilled trout anglers, having embraced the sport as early as seven or eight years old! The Beales and all of the guides at El Encuentro have extensive knowledge not only of every lake, river, and stream in the area, but also long-standing friendships with virtually every local land owner–providing exclusive access to private waters. They all speak excellent English, and are experienced fly fishing instructors.
With its many islands and wadable braids, day in and day out the Futaleufú is the best large river in Patagonia for numbers of fish and trophy rainbow and brown trout. The Futaleufú flows from the Amutui Quimei Reservoir and meanders along the eastern foothills of the Andes. The hydroelectric dam provides a constant temperature and water flow, keeping water level fluctuations to about ½ meter year-round, producing remarkably consistent hatches and many varieties of terrestrials along its banks.
In addition to the vast numbers of options on the Futaleufú system, El Encuentro has access to the Arrrayanes, Nant y Fall and Corriento rivers, along with many private waters and lakes with interconnecting streams, spring creeks, and smaller tributary rivers. Their Safari Base Camp to the south, on the Rio Corcovado, accesses the river for huge spawning rainbow up to 20 pounds as it flows from Lago Vinttery to the canyon area. The white-water float below the canyon consistently produces good rainbow and trophy brown trout in the four to eight pound range. The camp also accesses four extraordinary brook trout lakes with some brook trout exceeding 20 pounds. The new world record could come from this remote series of lakes.
El Encuentro offers true Old World family hospitality and the Beales proudly grow most of the organic vegetables in their one-acre kitchen garden and serve eggs from their own chickens. Lamb and beef are locally sourced from family partners and local markets and breads are baked daily at the lodge. Memorable Argentine wines are served at lunch and dinner, and of course on lavish riverside picnics.
The best in trout-specific equipment, caring and personal service, spectacular natural surroundings and the world's best trout fishing await lucky sportsmen at El Encuentro Lodge.
Rates
$6300 PER PERSON FOR 7 NIGHTS & 6 DAYS FISHING—DOUBLE OCCUPANCY 
INCLUDED: Double accommodations, meals, house wines, liquor and beer, ground transportation to/from the Esquel airport, the use of fly rods and reels, leader and tippet.
NOT INCLUDED: Commercial air travel, Buenos Aires airport transfers, flies (can be purchased at the lodge), fishing license, phone calls, tips for guides and staff (suggested 10% of package price), and miscellaneous personal or travel expenses.
PRIME TIME: November through April
Travel
All of our great fishing programs are located in the Patagonia province of Chubut, Argentina. The main city providing services to this area is Esquel, Argentina (airport code EQS). Aerolineas Argentinas is the only airline which offers a daily flight to the Esquel airport from Buenos Aires, Argentina.
United, American, Delta, Aerolíneas Argentinas, and LATAM have non-stop service to Buenos Aires from Miami, New York, Atlanta, Dallas-Fort Worth and Houston. Your flights should be booked from your city of origin to Buenos Aires.
Buenos Aires has two airports, Ezeiza (EZE, international), and Aeroparque (AEP, domestic). All international flights arrive into Ezeiza, and all domestic flights in Argentina depart from Aeroparque. Therefore it is necessary to transfer from the international airport to the domestic airport for your flight to Patagonia. Our agents in Buenos Aires can provide this service.
Depending on the time your international flight lands, you might be able to travel directly to Esquel on the same day. Please keep in mind that you should plan at least four hours to change airports and make the connections in Buenos Aires. You may choose to overnight in Buenos Aires to tour the city and enjoy one of the many fine hotels and restaurants. Rod & Gun can assist you with those arrangements.
Download important pre-trip details here: